Book An Appointment with Our Catering Team
At Fig Tree Catering, we are a full service catering company. Consequently, when you hire us to provide you your food service; we also provide dishes and serving staff for your event. Book An Appointment with our catering team today. We make it easy so you don't worry about more details than you have to. 
We know that an event requires lots of planning and services. It our job to make sure that all of your food related services are taken care of from plateware to drinks and serving staff. Fig Tree, caters to weddings, holiday events, company picnics, and birthdays; with rich tasting and artfully displayed foods.Fig Tree Catering is a local catering company serving clients in Reno and the surrounding areas.
We work with our clients to create delicious, personalized menus, or we can provide you with any of the many menus already designed to make planning your event as stress-free as possible. Fig Tree specializes in exceptional cuisine made from fresh ingredients cooked to succulent perfection that will tease and delight many palates. Contact us today for more information! By appointment only.We combine our passion for food with our commitment to excellent service to provide you with the best catering service available. Fig Tree Catering always strives to exceed your expectations. We have a dedicated staff that love what they do. Give us a call today to plan your next event.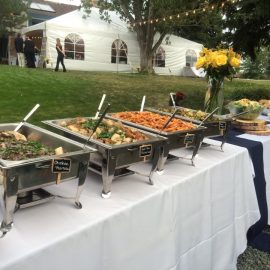 Contact Fig Tree Catering to book your next event:
Complete the Form Below to Request More Information, Book an Appointment, Schedule a Tasting and More...
Fig Tree Catering Contact Form
5301 Longley Lane, #A-14, Reno, NV